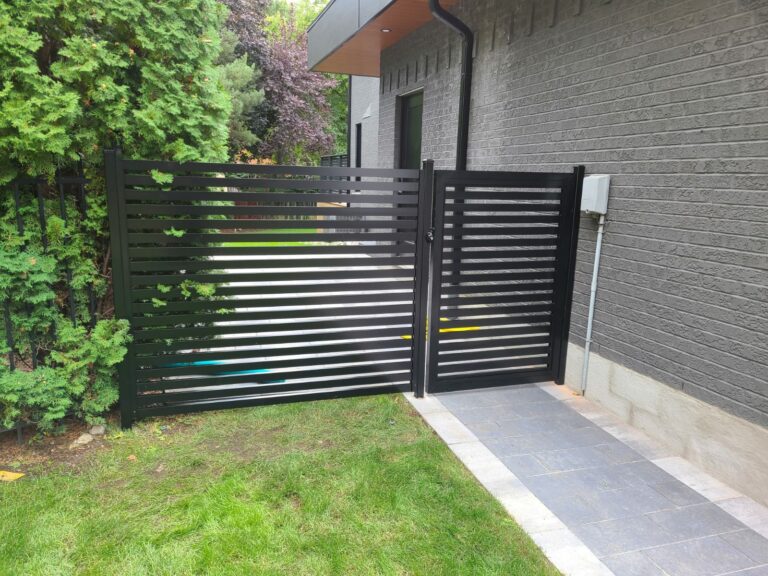 Black Fence Toronto | Zero-maintenance, Customizable Aluminum Fencing
Whether you need a secure fence for your home or a garden fence to keep the animals away from your vegetables, we have a fencing solution for you! Black Picket Fence Toronto is your one stop solution.
Gone are the days of chain link fences or wooden fencing! Composite, vinyl, and aluminum systems don't just offer the sleek sophistication that most homeowners are after, but they also provide a durable, secure barrier between you and the rest of the world.
To find out more about our services or request a quote, give us a call today!
What Do We Offer?
 At Black Fence Toronto, we have a wide range of aluminum fences, vinyl fencing, and composite fences. We also handle the installation, so you'll get the complete package when you choose us! View our gallery to see our work!
Black Picket Fence Toronto
People have used picket fences for decades to add an aesthetic appeal to the home. However, the traditional wooden picket fence typically requires a great deal of upkeep.
Why Choose an Aluminum Black Picket Fence?
When you choose our Black Picket Fence Canada, you will get the great look and feel of a picket fence with a more sturdy, durable, and maintenance-free build!
Are you worried about rust? Our aluminum picket fence panels are powder coated and built to be rust-resistant.
Black Aluminum Privacy Fencing System
If you love the look of a black picket fence but need more privacy, you can opt for a black aluminum privacy fence. We use high-quality aluminum sheets to ensure that you get the privacy you need!
Black Aluminum Slat Fence Toronto
Unlike the picket fence, which has bars in a vertical orientation, slat fence panels have bars that travel horizontally.
Why Choose a Slat Fence?
If you'd like a semi-private fence, our Black Aluminum Slat Fence is the way to go! You can incorporate gates into the fence, offering a convenient and sleek entry or exit point that gives you a good level of privacy without obstructing your view entirely.
Black Vinyl Fencing Toronto
Vinyl fence panels offer a high level of privacy and are one of the most attractive metal fence systems in our book! They offer the appearance of a brick fence without the high costs. We make our vinyl fence panels with high-quality plastics that stand the test of time.
What Is Vinyl Fencing?
A vinyl fence is a low-maintenance fence that we build using high-grade PVC. Many homeowners love that this product doesn't need any upkeep, and it does a fantastic job of keeping bugs and animals out. If you're looking for a fence that offers a high level of privacy and offers the appearance of a wood fence, this may just be the right option for you!
Black Welded Wire Fence Toronto
The Black Welded Wire Fence is a modern alternative to the traditional chain-link fence. It also offers greater security and durability, thanks to the metal wire used in its construction. This aluminum fence offers the most visibility, making it a good choice for commercial properties.
Black/Gray Composite Fence Toronto
Our composite fence is an excellent choice if you're looking for an eco-friendly solution. We use recycled wood and plastic to produce a strong fence that won't need paint or repairs! They're also available in two great colours!
Why Choose Us?
The truth is that several service providers in Canada offer aluminum fencing, so why should you choose Black Fence Toronto? Here are a few reasons why we stand out from the crowd:
 Our high-quality metal fence panels are proudly Canadian since the steel construction happens in-house
You won't need to spend time painting your aluminum fence since our fence panels are maintenance-free!
We ensure that our fences are affordable. Since stores add a mark-up on fences and we produce them in-house, we can offer you a better deal
Our fence panels are sturdy and durable, so you have the assurance that your home is always secure
Your custom fence will be up before you know it because they're so easy to install
When you choose Black Fence CA, you don't need another contractor to get your fencing installed – we will handle the installation for you!
Since we handle all the heavy lifting, you won't need to shop for fencing hardware, either
You can customize your fence to suit your needs or preferences
Our fence panels are rust and water-resistant thanks to a high-quality powder coating
Ready to Install Your Black Fence Toronto?
Wood has been the fencing material of choice for decades. However, research and past experience have shown that it isn't the best material for maintenance-free, durable fence panels.
At Black Fence Toronto, we understand that the quality of material and workmanship plays an essential role in developing a modern fencing system. Our fencing solutions don't just look good, but they also offer the security you need to keep your home, building, or warehouse safe when you're not around.
Whether you need a fence for your residential or commercial property, we have you covered! Get in touch with us today to request a free quote or learn more about our services. Need us to call you back? Contact us and we'll be in touch.
Looking for more options? View our Fence Factory website!